I have seen and heard of many ways protesters use to raise awareness of their cause.
Being naked is one of them. Let's not forget Peta campaigners nor the recent feminist protests. There are so many things that London residents would be happy to change! The travelling conditions on the tube are one of them.
Now, what does nakedness and the tube have to do with each other?

A commuter called Mungo Strachan stripped off his clothes this week in protest for the small problem of overheating in London tube.
According to the articles that I have read, he got a lot more attention afterwards on social media and on the newspapers. It would have been great to see the faces around him on the tube!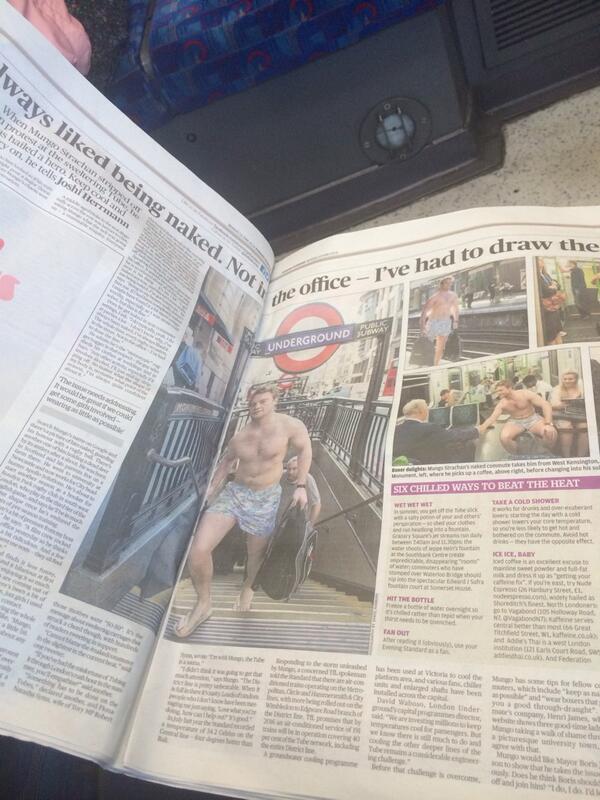 OK. So he wasn't totally naked. Apparently his friend was launching a new boxer range… Still, he even got support from the wife of Tory MP Robert Syms. All this prompted a response from TFL to inform commuters of the measures that are currently being taken to help make tube rides more enjoyable.
It is interesting how much we hear of being naked or partially naked in public spaces these days. In January, we got No Trousers Day 2014, which is even a yearly event, or the naked bike ride.
Mungo advises commuters to "keep it as naked as possible". Having suffered 34.2 C on the tube last July, it may seem like a good advice. I'd be interested to see what other commuters think, though. I can now visualise a few killer looks.
A Londoner from Afar
Picture credits
Heka Heka
@AnnaSpooner